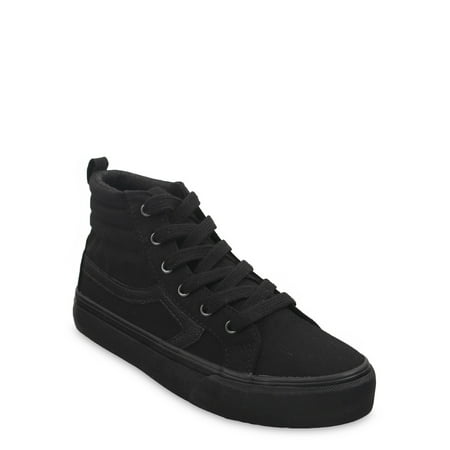 This classic canvas high-top in all black will quickly become the go-to style for your kids. With a black canvas upper, black accents and bottom, a padded collar and lace up design, this shoe is a great addition to any closet!
Customer Reviews
Casual Black Tennis Shoe
These athletic/tennis shoes are really comfortable. This is a really stylish yet casual shoe. It is a hi-top tennis shoe so they do come up a bit past your ankle. The sides have a layered texture design so it is not just a solid plain black shoe. Ref the pictures included with my review. There seems to be a good amount of padding so when you walk your foot is cushioned. The bottom of the shoe has a good grip so your feet are not sliding around on slick surfaces. These shoes are stylish but do not stand out so they will go with most anything. They are nice enough to also wear with something like khaki pants if you want to wear something a bit dressy. They also look good with jeans for every day wear. I can't say how they will hold up over a long period of time but I would definitely recommend this shoe to others. I also would purchase this in the future.RandomShopper
great high tops for an active boy!
These high top tennis shoes are well made. They have held up and look new even after an active 7 year old has worn them all day at summer camp. He is wearing them effortlessly on the playground, in the building, on the steps, and even on his treks to the park. He loves how they are not slippery on the floor, so he can wear them and feel confident in his steps. He like sto run, jump and dance in them. They don't show any wear in the seams or the sole, they are holding up to an active child. I did assist him with getting them on his feet, but he was able to lace them and they stayed laced all day. He is wearing the tennis shoes on an average of 8 hours at a time and they also still look new, fresh, and clean. They match his outfits and make him feel like a sports player! He had no blisters and has not complained of any pain. He wears a size 1 but I did get them in a 2 and they provide him with about an 1/2 inch or more of comfortable room. We love them! The Spark Reviewer program provided me with these shoes.Sctsgrl
Affordable+Skater Style Sneaker+Non-Marking Soles
These affordable, fashionable skater style sneakers are a Wonder Nation brand. They are high tops with 6 lace eyelets on each side outer material with non-marking outsole with adjustable comfort sock on the inside.
Wearing these Wonder Nation sneakers is my Grandson who is age 6 and will be entering first grade this year.

He said that they were "cool" looking skate sneakers when he first seen them brand-new out of the box. He also said that they feel very comfortable on his feet.
He has worn them for a couple of days and at first nothing bothered him but the longer he wore them he said that on the inside of the sneaker, at the toe, felt uncomfortable when he moved his foot in the upward walking position. I asked him if it hurt he said no just a little bit uncomfortable. After looking I have noticed a piece of thin plastic on the inside, from the toe tips to where the foot starts, that sewn in, is what he is talking about. I actually like the extra added protection and he will get use to them.
On the inside of the house, the soles did NOT leave any black marks my tile or hardwood floors. I definitely think this is a feature that all non-white soles should have.

After wearing them outside for hours, at a time, they did get a little dirty, which is natural.
However, the canvas material and the soles are very easy to wipe clean with a damp cloth.
Make sure to use a lint-free cloth to wipe them off because lint does show up against the black canvas. I first made this mistake! However, I was able to get the pieces of lint off easily.

I did notice that the soles hold onto very small particles like small pebbles, gravels and blades of grass stuck into the grooves after he had worn them outdoors. With this said, I do like the way the soles are made. The constitution of them is durable and again, non-marking. They are supportive to his steps.

All in all these are a fashionable, skater style sneaker that boys or girls could wear at a very affordable price point. They clean up easily and would match most clothing outfits. I think they would look great worn with shorts or long pants in any seasonal weather. These are kid-friendly and parent-approved.
You may also be interested in