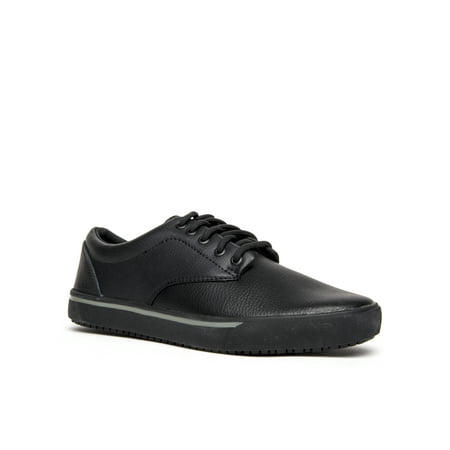 | | |
| --- | --- |
| Brand Name | Tredsafe |
| Model | |
| Rating | |
| Reviews | No reviews yet |
Long-lasting, dependable slip-resistant shoes with lace-up feature to keep shoes secureFeaturing EnduroPro anti-fatigue footbed with anti-microbial propertiesOil- and Slip-resistant outsole ASTM D471 compliant for safe traction on the jobComfortable Slip-On Tredsafe Shoes with EnduroPro FootbedThese Tredsafe Rig Unisex Slip-Resistant Shoes feature an EnduroPro anti-fatigue footbed to keep you comfortable over long hours on your feet. EnduroPro lightweight polyurethane footbeds are designed to absorb shock and minimize joint impact and strain for people who work on tile or concrete. They have an anti-microbial lining to inhibit bacterial growth and keep your shoes fresher, longer.Comfortable Performance Tested Shoes from TredsafeTredsafe makes long-lasting shoes with slip-resistant soles and comfortable insoles for anyone who spends long hours on their feet. Tredsafe Unisex Rig's lace-up design allows for easy removal while keeping your shoes secure throughout your workday. These slip-resistant work shoes are easy to clean and easy to wear and have durable 100% rubber outsoles.  If you're looking for the right shoes for your job, don't just be safe, be Tredsafe.Slip Resistant, ASTM D471 Compliant Work ShoesIn an active, fast-paced work environment, it's important to wear shoes that not only keep you comfortable but keep you safe with slip-resistant footing. Tredsafe non-slip work shoes can keep your footing secure in busy kitchens, showrooms, or warehouses. These unisex lace-up shoes are water-resistant and have a rubber oil- and slip-resistant outsole for your safety in hazardous conditions. For added appeal, the Unisex Rig features a textured leather and synthetic upper to give your feet extra protection. Tredsafe is the easy choice for required slip-resistant work shoes for job uniforms.Premium Quality Work Shoes from TredsafeAt Tredsafe, it's important we make high-quality, long-lasting shoes for people who depend on them over long hours at work. This Tredsafe design has a strong and flexible upper with a 100% Mark II rubber slip-resistant outsole. Choose Tredsafe for reliable, well-constructed slip-resistant shoes that don't sacrifice comfort for durability.You can order Tredsafe's full line of slip-resistant work shoes right here on Walmart.com. For a high ankle version of these unisex black lace-up shoes, try the Tredsafe Mid Rig, or for slip-on design, try the Tredsafe Ric.
Safe slip-resistant work shoes feature a lace-up design to keep shoes snug and secure
Enduro
Pro footbed to keep you comfortable for long hours on the job
Long-lasting eco-friendly lining
Anti-microbial properties to inhibit bacterial growth
Durable, reliable slip-resistant shoes for job uniforms and ASTM D471 compliance
Non-marking, oil- and slip-resistant 100% rubber sole
Long-lasting no-slip work shoes from Tred
Safe
Unique Tred
Safe patented pod design on outsole
Easy to clean by wiping down with a dry cloth, or a cloth with mild soap and water
You may also be interested in