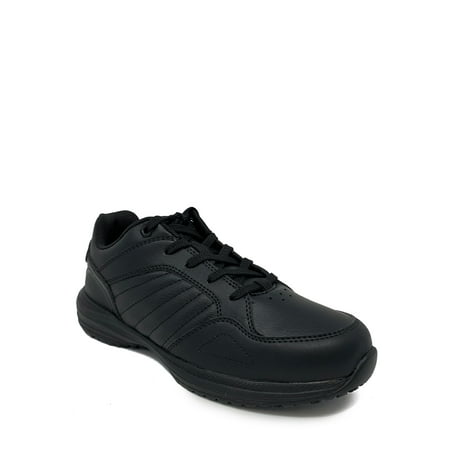 The TredSafe Lizzy Slip-resistant Athletic Shoe is a comfort fit work shoe that is perfect for the workplace. This non-slip shoe has a slip-resistant outsole that provides grip and traction support when facing unlevel, wet, or hazardous surfaces. The shoe is perfect for the restaurant industry as it provides the necessary traction to withstand wet surfaces and safely delivers the wearer from table to table so you can focus on the orders, not your footing. Long days on the job demand a shoe that will provide the support to keep you on your feet. The TredSafe Lizzy Athletic Shoe is built with a comfort fit for all day wear. An EVA midsole and rubber outsole provide the extra layer of comfort to combat the long hours on your feet moving from place to place.
Rubber sole
Enduropro Anti-Fatigue Footbed®Low profile
EVA midsole
A comfort fit work shoe that was built for safety and performance while on the job. The Lizzy slip-resistant athletic shoe is the perfect fit for the restaurant industry.
Customer Reviews
Great work shoe
My girlfriend loves wearing these shoes to work. We get these for her and pair them with the SOFCOMFORT Sport Insole for men. Combined you have an amazing value coming in at under $35. The SOFCOMFORT sport insole purchased separately which is also available from Walmart gives extra cushion and impact absorption to compliment the already great slip resistant shoes.TheDarkPatriot
Tredsafe Lizzie Shoe
I have bought this shoes for over 5 years. They are comfortable and water-resistant. I find them comfortable.(I will say that i have no foot issues.)CatLady
My experience with this Brand: Very Good Shoes
My other pair just like this, have just about worn out and I got them wet when I was caught in the rain. So, I decided to buy a new pair. These shoes, from my experience, last a long time and they are very comfortable. Even after getting wet, once they dried out (I used rolled up newspaper inserted inside, to help them dry), they were good to go. The new pair arrived in a very timely fashion. I did open the box to check to make sure they sent me the right pair and they did. These shoes come in an 8 wide and actually I have a very narrow flat foot (AA) but since they are lace shoes (laced up tight as need be) and with the right pair of socks (not too thin), they work fine. Sometimes, I will just slip these shoes on (after they have been broken in). The only other thing I can think of is that when you put the shoe on, make sure the tongue (of the shoe) is pulled out.
The only reason I gave these shoes a 4 instead of a 5 rating is that I have not actually worn the new pair. But as I said, they look the same.V
You may also be interested in