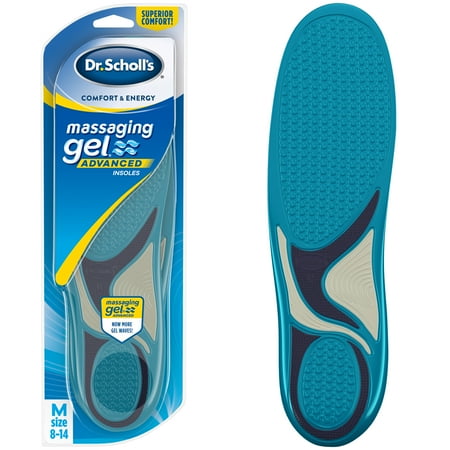 Dr. Scholl's MASSAGING GEL Advanced Insoles provide superior, all-day comfort that keeps you feeling more energized. They help reduce muscle fatigue in feet and legs and allow you to stay on your feet longer. Move over 10% more with Massaging Gel Advanced. The RESPONSIVE-WAVE CUSHIONING increases bounce in each step. It has multi-layer wave designs that adapts to give you cushioning and spring as you move through your stride. The RIPPLE WAVE in the heel adds greater comfort. These insoles provide all-day comfort to help you MOVE MORE. They fit in a range of shoes including: work boots/shoes, casual shoes and sneakers. This package contains one pair of Insoles to fit Men's sizes 8-14. Dr. Scholl's has been a trusted brand in foot care since 1904 when Dr. William Mathias Scholl, grandson of a cobbler, launched the company under the name Dr. Scholl Inc.
REDUCES MUSCLE FATIGUE: allows you to stay on your feet longer and keeps you feeling more energized
MOVE OVER 10% MORE: a recent clinical study showed that participants unknowingly moved over 10% more each day* with Massaging Gel Advanced softer and bouncier gel waves (*compared to original Dr. Scholl's Massaging Gel Insoles)RESPONSIVE-WAVE CUSHIONING and RIPPLE WAVE: increases bounce in each step and adds greater comfort
Fits Work Boots/Shoes, Casual Shoes and Sneakers. Trim to fit.MONEY BACK GUARANTEE: Try it risk free! If you are not completely satisfied with your purchase, retain product, packaging and original sales receipt and visit drscholls.com/MBG for information on our 90-day money-back guarantee.
Customer Reviews
My feet are happy!
I work full time at a busy doctor's office and I'm on my feet most of the day. Since receiving these Dr. Scholl's Comfort & Energy Massaging Gel Insoles, my feet are happy. The insoles fit perfectly inside my shoes, I did cut a bit off so that they fit my shoes. They are extremely comfortable and my feet no longer hurt after working all day. I would definitely recommend!! [This review was collected as part of a promotion.]cajunmom1976
Comfort
I received the Dr. Scholl's comfort and energy massaging gel insoles. I wanted something I can wear to help my feet feel better. When I walk I can feel the massaging on my heel of my foot. It helps with the fatigue I feel from my muscles in my feet and legs. I felt so energized after wearing the Dr. Scholl's insoles. I couldn't wait to tell my father. He wanted him some. Great quality and of great value product. I love the feel in the heel of my foot with this insoles. [This review was collected as part of a promotion.]Lilblikey
Very comfortable.
These insoles are so comfortable. You are able to trim them to your specifications. I walk a lot at work and these help my feet from getting sore after a long day. I change them out and use them for hiking as well. They are like walking on clouds. I am able to walk longer and enjoy the outdoors more. These massaging gel insoles add a bit of cushion to your shoes. I am still able to fit the same shoes I usually wear even adding them on. Definitely a game changer. [This review was collected as part of a promotion.]Purplevioletxz
You may also be interested in