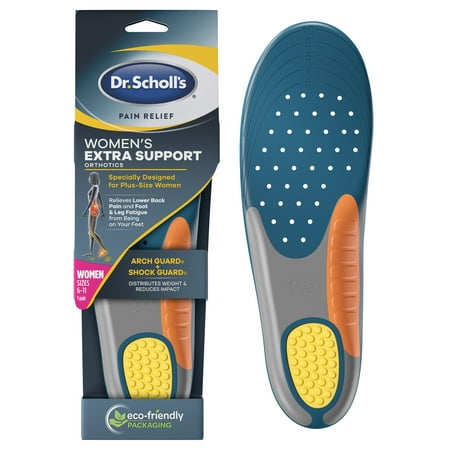 We designed Dr. Scholl's Extra Support Orthotics for plus-size women who suffer from lower back pain and foot & leg fatigue from being on their feet. Lower back pain and foot & leg fatigue can be triggered from the everyday pounding your feet take during daily activities such as standing and walking. This can be particularly true for plus-size women. Dr. Scholl's Pain Relief Women's Extra Support Orthotics with Shock Guard and Arch Guard technology are designed to provide extra-sturdy support, distribute weight and lighten the impact of every step. Dr. Scholl's has been a trusted brand in foot care since 1904 when Dr. William Mathias Scholl, grandson of a cobbler, launched the company under the name Dr. Scholl Inc. As the current makers of Dr. Scholl's products, we continue to advance the science of movement and foot care with the same enthusiasm that young William Scholl did all those years ago. Our mission continues to be helping people to move more comfortably and confidently through life.
Customer Reviews
Really works if you are overweight
These shoe inserts relieved my back, hip and foot pain. The arch support really helps. These inserts must be cut to size to fit inside your shoes but that isn't a problem because they provide markings to show you where to trim to get the perfect length. I am buying a second pair! If you are overweight you definitely need extra support for your feet until you get back to a healthy weight. These inserts also help to absorb shock which saves wear on your feet, knees, hips and back.Susie
Great for hiking and athletic shoes
I love Dr. Scholls Womens Pain Relief Extra Support insoles. I am 60 years old and weigh 120 lbs, but I carry a daypack and light backpack. I was having heel pain which I suspect was the start of plantar fasciitis from power walking in thin insoles in ASICS and Merrill hiking shoes. Since I wear two different sizes of shoes depending if they are hiking or athletic, I can cut these insoles to fit both. Although Superfeet are ideal for serious strenuous hiking and backpacking, these are great for casual hiking at 50% less cost.Cathy
AMAZING for pregnancy
My feet hurt SO much during pregnancy and nothing was helping my pain. Couldn't walk for more than 20 minutes without wanting to cry. These insoles allow me to walk around to stores or for errands for a good two hours without significant pain. When I feel tired I jjst elevate my feet for half hour to an hour and I'm ready to go again! AMAZING!
You may also be interested in