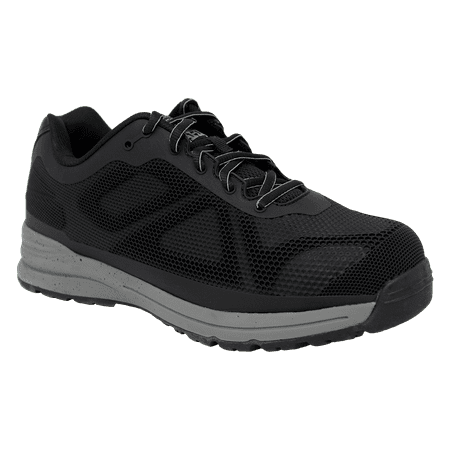 An athletic, work shoe that provides the necessary support and agility to perform at a high level on the job. The Brahma Men's Kamden Steel Toe Athletic Shoe combines safety, comfort, and practicality all into one. The steel toe athletic shoes provide the protection needed for the more physically demanding jobs while also providing the comfort and flexibility of an athletic shoe. The Kamden steel toe athletic shoe is built from a lightweight material for comfort. The athletic shoe's lightweight material makes it easy to pivot and change direction. Combined with the steel toe for the added safety, the Kamden Steel Toe Athletic Shoe is a perfect option for rough condition jobs such as on the construction site or manufacturing floor.
Enduropro® Comfort Lite footbed
Synthetic mesh material
Lightweight material
Slip-resistant Outsole
The men's Kamden was built for safety. This steel toe sneaker comes loaded with an Enduropro® Comfort Lite footbed that assures the needed comfort for each step that you take throughout the long workday. Whether it is for work or recreational use, this athletic shoe will provide the needed support to meet all the demands it may face. This high-quality shoe combines a comfort fit athletic shoe with the protection of a steel toe boot to create a lightweight and reliable shoe for a variety of environments.
Customer Reviews
Well now…
I am impressed by these shoes. All the benefits of Brahma boots (except ankle support) including steel toe in a tennis shoe! So l popped them on and took a stroll up to the store… .3 mile away , they feel good right out of the box. They replace regular tennis shoes in my case which were double the price of these things and hurt my feet to boot.

I also noticed the shoes are slip resistant a little bit in some oil like stuff l stepped in. So that's also cool.

Nice to know that l can kick someone or something too - if l have to and make it count just like the old boots used to do.

I would try that with just any tennis shoe you will bust your toes…

So they add to my super powers!Robert
Great work shoe.
After a month of wearing these shoes in a stone yard where i put them through a lot of abuse they have held up great! Great price, light, durable and very comfortable!!Jared
Will they outlast the lesser priced Brahmas?
Comfort a plus. Usually buy the cheaper Brahma Brand steel toe shoes. They last approximately 6 months in my work environment. Have only had a week, but they appear to be made a better than my previously purchased shoes. We shall see...lweaver
You may also be interested in