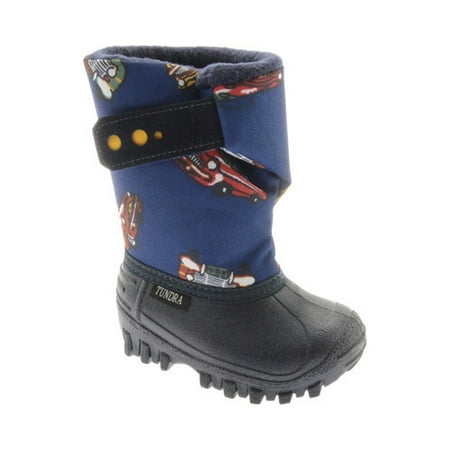 Watch your kids tackle the winter with confidence in the Tundra Boys' Teddy Snowboots. They feature a eye-catching, water-resistant upper that's made of durable nylon and TPR and features a cool car pattern printed on the shaft. The Velcro strap at the top of the shaft provides a snug fit and keeps warmth in and snow out, while the fleece lining acts as an effective insulator. These winter boots are temperature-rated to -22 F (-30 C), and the waterproof lug sole helps him maintain his footing in slippery conditions. These snow boots are available in black.
Boys' winter boots
Nylon and TPR upper
Printed car pattern on shaft
Velcro strap around top of shaft
Fleece lining
Waterproof lug sole
Temperature-rated to -22 F/-30 C
Available in Cars
Clean with soft brush or damp cloth before wearing, use water-repellent and protective sprays or waxes as per instructions on spray or wax containers, do not place near direct source of heat
Customer Reviews
My toddler loves these!
I bought these for my 2.5 year old who has pretty chubby feet. He absolutely loves them, and he is able to put them on and take them off all by himself due to the easy velcro closure. So far they seem to stay on well and have good traction in the snow. I would definitely recommend these.
my 3 year old is very happy
received my work boots and son's tundra boots. his are very high quality good fit. he can't wait to go jump in muddy puddles and play in the snow when it comeswerner
Very good this far
Very good boots this far, yeap go ahead and buy themWomenProtector1