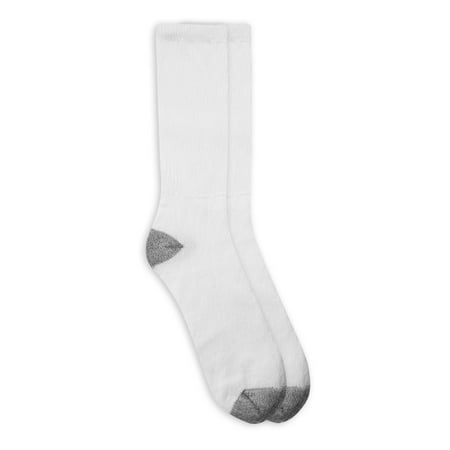 Achieve the ultimate comfort and value with Athletic Works men's white crew socks with grey heel and toe in an easy, convenient 12 pair package. Moisture wicking handles sweat for fast drying performance that keeps up with your active lifestyle. LYCRA® fiber offers the perfect amount of stretch for the contoured fit you need in an active sock. Whether you are at work, working out, or lounging at home, you'll find the comfortable athletic cushioned sole provides that extra layer of padded protection and durability for all day wear. These socks for men fit shoe sizes 6-12 and sock sizes 10-13.
Customer Reviews

We never get long socks but my husbands boots Were giving him blisters so we tried these and they made him more comfortable and the blisters have stopJasmine
Ms Stancell
The socks fit me perfectly, however I am a woman and I wear a size 9 1/2 shoe. So I don't think the size is correct for a man. But l would encourage the ladies, to consider
these for their use. The size I ordered is , Big and Tall, men's 12-15 shoe size. Get them, ladies, thy are soft and stretchy, gives the appearance of a dress socks. Top not too tight on my calves. That's where they reach, on my leg. Athletic Works men's crew socks. I will try to get more..... Very satisfied!!!!!Gwendolyn

I was skeptical after I opened the box they were shipped in. They looked way to small to be for size 6 to 12 foot..
After trying on a pair and wearing them for a day I am very happy with my purchase.
They fit a size 10 foot and are quite soft and comfortable without being tight and constricting. Will buy again.
You may also be interested in