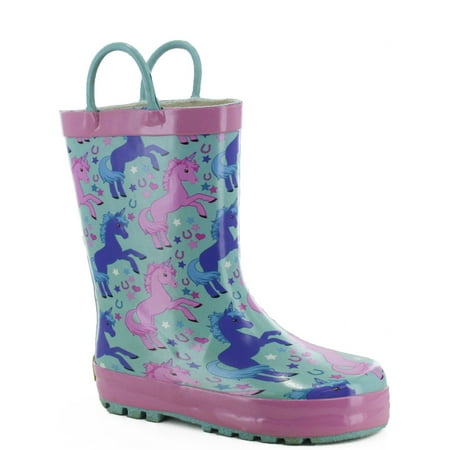 | | |
| --- | --- |
| Brand Name | Western Chief |
| Model | 2410901P |
| Rating | |
| Reviews | No reviews yet |
A cute unicorn rain boot. Pink and dark blue unicorns on a turquoise upper. Pink trim and lining. Waterproof, easy to clean, and two handles for slipping on and off. Western Chief has been making trusted family footwear since 1891. All products are handmade with the intent of keeping the wearer dry and comfortable in unpredictable weather.
KID-FRIENDLY WATERPROOF BOOTS | We know kids are tough on boots and strive to make rain boots that can stand up to the most adventurous play. The main material we use is natural rubber. Rubber is a durable, flexible material that is waterproof. We use a handmade vulcanization process that reduces weak spots in our rubber and allows us to have more freedom to design the family-friendly, fun prints you and your child love.
COMFORTABLE LINING AND INSOLE | Kids can be picky about boots – and we don't blame them! Nobody wants to wear boots that are abrasive and rough. We line our boots with soft, polyester/cotton blend lining to give comfort. The polyester/cotton blend lining also absorbs moisture. If little droplets sneak past the outer, you don't have to worry about the inner getting ruined! The inner's coziness is just as important as the outside. Children need a comfortable insole to run around on. Our rubber boots are made with a cozy insole. Our insoles are removable, and thus easy to replace and clean!
EASY ON AND OFF | We know shoelaces and zippers can be a battle with kids. They're always coming undone, often create uncomfortable tightness, and sometimes, it can be a fight just to get them on. To make your day a bit easier, we make our rain boots with two handles that your child can use to pull them on and off! This promotes independent dressing and is perfect for the family on the go! No hassle – just the way we all like it!
EASY CLEAN AND CARE | We recommend cleaning your boots with a damp, warm cloth and mild liquid dish soap. A silicone conditioner can also be used. Air dry all boots. We suggest storing our boots in a cool, dry area to help prevent the boot from damage.
You may also be interested in