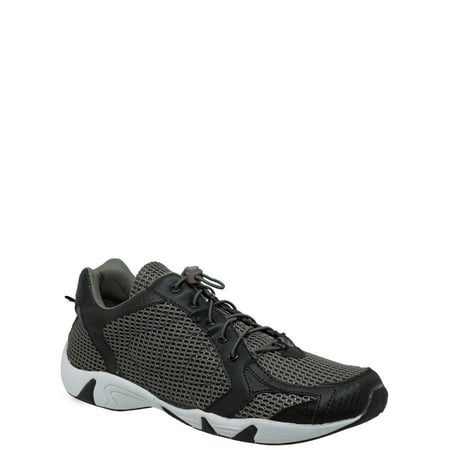 This light weight breathable mesh shoe is built with a special water dissipating outsole and made to dry quickly, allowing it to transition from water to land effortlessly. It is equipped with a speed-lace for easy wear and has an EVA insole for walking comfort. The rubber outsole provides durability and slip resistance.
Customer Reviews
Just what I Needed!
I bought these shoes because I'm In water aerobics every day. The pool bottom is rough and the drain sticks up a bit, so my feet are protected. I'm a women who wears a size 13 so I ordered the men's 12 which is perfect. I also added an innersole because my feet need more support. They run a bit narrow which works great for me! Love them!pelkiegirl
Great water shoes
These are light weight, making it easier to exit a pool via stairs. The water draining out of the bottom is a clever idea. They dry quickly enough that I can use them day after day. I don't walk long distances on land with them, but they give good support and work great on land - at least for the distances I use them. They stay on well when exercising in the water. They have never come loose let alone come off. I usually wear a 12, but needed a 13 in these.Gomez
Perfect for beach and sight seeing
These shoes are VERY lightweight with good sole support. They are easy to get sand out of and wash up well. They have a good surface for exploring the rugged shores of Kaua'i and the flat concrete of sidewalks. Great shoe and will be ordering another pair soon.
You may also be interested in