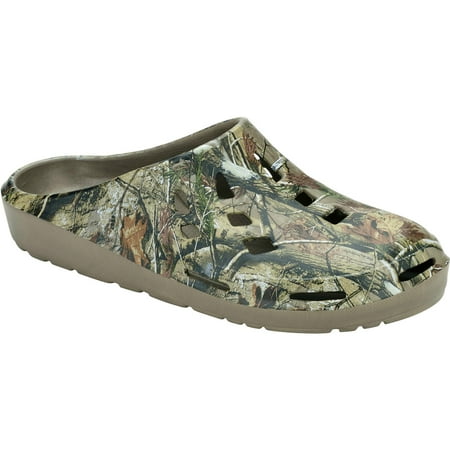 The RealTree Men's Casual Clog Shoe is an essential addition to your collection. It's ideal for wearing to backyard barbecues or just to lounge around your house. This RealTree shoe comes in your choice of patterns so you can get the one that you like best. The textured tread on the bottom gives you traction for safer and stabler walking. There are no laces or buckles so you can take it off and put it on easily. The camouflage patterns make this product ideal for hunters, hikers and other outdoor enthusiasts to wear.
RealTree Men's Casual Clog Shoe:
Men's RealTree molded EVA clog with genuine RealTree print
Available in sizes 7, 8, 9, 10, 11 and 13
Men's casual shoe in both Camo and RealTree AP Camo
Easy to put on and take off
Excellent for relaxing at home
Customer Reviews
Great for indoors
Really comfortable for walking around the house, also use them when watering grass or mowing the lawn... not meant for hiking or going camping..Lalo
No longer available in Size 14? :(
Purchased first pair of these a couple of years ago in size 14. Family member loved them but they wore completely through the sole after a couple of years. Have been checking Online and at multiple WM stores since Spring 2016 for another pair of Size 14 but it appears that Walmart no longer carries that size anywhere. Size 14 is never even one of the size choices on walmart.com. People's feet are getting bigger, not smaller. Please start carrying larger shoe sizes for this item as soon as possible. I will keep checking back and purchase them as soon as this happens. Thank you.WalmartMom
Lightweight and comfortable
Very lightweight. They are deep at the heel area, so shoe doesn't slip off. If your feet get sweatty then wear socks otherwise your foot will slip inside. I wore them at the camping as well and actually liked them a lot. I even took them to Hawaii and walked them to the sandy beeches. They feel comfortable, almost as real shoe not like sandals or flippers where the rear side of the shoe flips all the time.Soccerfan
very comfortable and long lasting.
I have had a pair for over 2 years and they last. I have looked at several Walmart stores and cant find them in my area so I am ordering online. They are very comfortable and match well with most colors.Turner
Absolutely not
Bought these for a camping weekend ended up with a sprained ankle and blisters the one night I wore them.
You may also be interested in