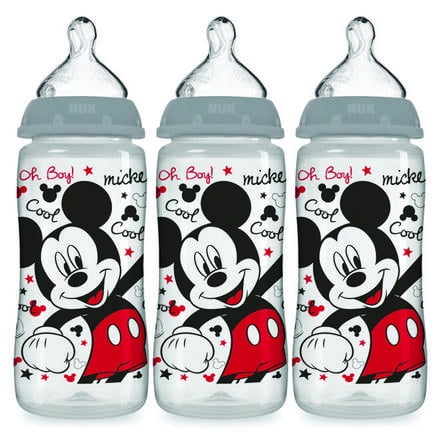 These NUK Disney Mickey Mouse 10 oz Orthodontic Nipple Bottles merge advanced functionality with a unique design for easy feeding for your baby! It is the leading bottle with an orthodontic nipple that supports healthy oral development. And, the bottle nipple features the NUK Air System - a unique venting system - which helps reduce colic. The natural-shaped nipple on these silicone baby bottles also mimics Mom's to help make your little one's transition from the breast a seamless one. This unique nipple also has the drinking hole specially located on the top side - not the tip like round nipples - which allows the milk to mix more effectively with saliva and promote easier digestion. The timeless Disney Mickey Mouse design on these med flow NUK orthodontic bottles in a 3-pack can be coordinated with matching pacifiers and learner cups. And they feature interchangeable parts with other NUK bottles, so it's easy to mix and match.
Nuk Disney Baby Wide-Neck Bottles 0+m - 3 CT.
Nuk® Disney Baby Wide-Neck Bottles 0+m. Medium.
Silicone.
Improved!
Perfect fit™ nipple.
Anti-colic air system.
Natural way to bottle feed your growing baby.
9/10 Babies accept*.
Same shape as mom's nursing nipple.
BPA free.
10 oz (300 ml).
During breastfeeding, mom's nipple changes shape and becomes the same shape as the perfect fit™ nipple.
Perfect fit™ nipple features soft zone™ and the NUK® anti-colic air system that helps reduce colic, gas and spit-up.
Soft zone™ provides greater comfort as soft satin-like finish conforms to baby's palate.
Anti-colic air system allows baby to swallow liquid instead of air for a comfortable feed.
1-Piece vent integrated into nipple - no extra parts to clean.
Nuk® Bottles have a wide neck so they are easy to use and easy to clean.
All Nuk® bottle system products are dishwasher-safe, top rack only.
Sized to support your growing baby - available in 2 nipple sizes & 3 flow rates.
Size 1: 0-6 Months (slow & medium).
Size 2: 6+ Months (fast).
*Based on Market Research, June 2010, Tested with 200 Nuk® Bottle users.
Nuk is a registered trademark of Mapa GmbH, Zeven, Germany.
All rights reserved.
Call: 1-888-NUK-1238.
Visit: www.nuk-usa.com, www.nuk-canada.com.
©Disney.
©2015.
Customer Reviews