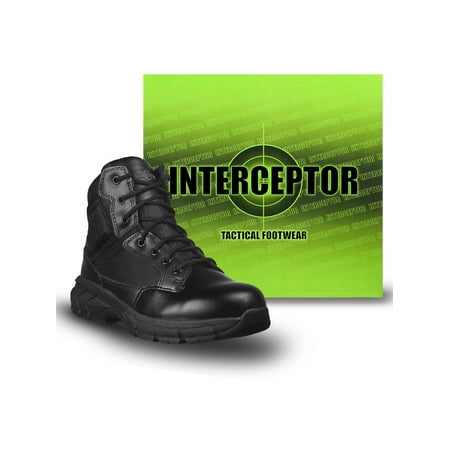 YKK side zipper men's boots for easy removalAnkle high men's work boots in black with durable slip resistant outsoleLightweight work shoes ideal for law enforcement, security, and emergency personnelRemovable foot bed for customizable insolesComfortable Black Men's Ankle Boots Made for Demanding JobsThe Interceptor Guard men's work boot is a versatile shoe loaded with features. The side zipper makes these men's boots a breeze to remove. The ankle high design keeps your boots snug, while the black outer color makes it perfect for all kinds of uniforms.When on call or working on tough projects, men need work boots that are comfortable. Our boots keep this in mind and offer a comfortable alternative to overpriced men's work shoes. The Guard's innersole provides support on those extra demanding days. Guard boots have a removable foot bed if you need to add custom orthopedic inserts.Lightweight Interceptor Guard boots feature an ankle high breathable black upper to keep your feet vented. They also have an underfoot cushioning system to keep your feet comfortable. On those long days, you need a shoe that can help your shift feel shorter. The Guard men's work boot is versatile, customizable, and tough enough for any task thrown your way.Slip Resistant, Lightweight Tread, and Super Tough Hardware for Durable Work ShoesGuard boots are made with durable fabric with reinforced stitching to handle active service and the toughest jobs. They'll last shift after shift. Guard men's boots are also made with YKK zippers, the global leader in quality and manufacturing standards. The zipper allows you to take these boots off in one smooth motion, which is much more convenient than traditional men's work boots. Our shoes are also slip resistant, so you can go wherever life takes you, indoors and out.Boss demanding the sharp, shined look? The Guard's toe can be polished to keep a crisp, professional looking shine. No matter your profession, you can appreciate the durable construction of Interceptor Guard men's work boots.Interceptor Guard Black Ankle Boots Protect More Than Your FeetWith Interceptor Guard work boots, you're not only getting a quality shoe. You're also getting protection from spills and falls. The Guard's slip resistant tread allows you to work on both rugged ground and smooth floors where other shoes would fail. They are ideal for work that demands readiness for action both indoors and out. The design balances comfort and durability in every pair of men's work boots.Tactical Boots for a Wide Variety of Needs Interceptor Guard boots are suited for whatever you need to tackle. Whether you're on the job or outdoors, Guards keep your feet comfortable all day long.Interceptor Tactical Boots are also available in several styles for a wide range of needs. Whether you need traditional black ankle boot or a non-traditional boot, Interceptor has you covered. Looking for U.S. Army compliant combat boots? Check. Need steel toes for construction and hard hat work? Check. How about slip resistant shoes for service industry professionals? The Interceptor line of work boots for men has you covered. Get the right pair for you at a Walmart store, or online at Walmart.com.
Black leather and mesh ankle high boots for demanding jobs
Oil and slip resistant shoes with multi-directional rubber tread
Padded collar and plain toe design for added comfort
Great for service member uniforms including law enforcement, security, and first responders
Zipper feature makes removal easier than typical men's work boots
Breathable, lightweight materials make these work boots comfortable
Customer Reviews
"Interceptor Guard"
What can I say? I am not disappointed at all! These "Guards" are well worth the price and performs just as well!
Today I purchased my second pair. Hard to find but well worth the search, if , you can find your size, that is..... Goodluck and ✌!!!!!

i bought a pair last year when i started security. everyday worn, ice snow rain... they held up for $40!!! definitely looking to buy another pair. infact my whole crew are looking to buy some!lady